Blais Racing Services Rider Shayla Fulfer Takes Another Woman's Pro Class Win At NHHA Round 4!
Chaparral Motorsports
|
March 25, 2011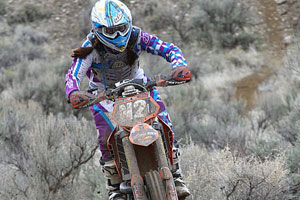 Dirt Inc National Hare & Hound
March 20th, 2011


The 4th round of the National Hare and Hound series finally came to my home of Idaho! The weather was very cold and windy, which in Idaho it can be snowing one minute and hot and sunny the next minute. At 11am the banner dropped and off we went. The first loop was 40 miles and pretty fast paced and nothing too technical in it. I came into the pits and got new goggles, filled up with gas and off I went onto the second loop which was about 60 miles. Right out of the pits, the course led us up to the mountains where there was snow and a lot of mud. We had to go down this big muddy valley that had water flowing down it from all the melted snow. After that, they led us to the Rekluse canyon and off into some deep water crossings. I managed to get through all of that stuff fine and without crashing. I came into the alternate gas pit where my dad splashed my tank with some gas and he told me that I was about 3 minutes ahead of the other girls when I came through the previous main pit. That made me really happy to hear and off I went to the finish line in one piece. I got first place in my class and the other girls came in a little over ten minutes behind me. I would like to thank the Dirt Inc. club for all their hard work for putting on an awesome and well marked race course. Also, I'd like to thank Blais Racing Services, Mom and Dad, the Kamo family and Fastway.

-Shayla Fulfer

Blais Racing Services Team Sponsors:

KTM, KENDA, FMF, Bullet Proof Designs, Cycra, Fluidyne Powersports, ESR Suspension, Race Tech, DirtTricks, Alpinestars, IMS, Troy Lee Designs, No Toil, RTT Stabilizers, BRP, Eline, Asterisk, Rekluse, Muscle Milk, Fasst Co, Scott Goggles & ZLT.