Pedrosa Has Injured Shoulder Examined
Chaparral Motorsports
|
March 24, 2011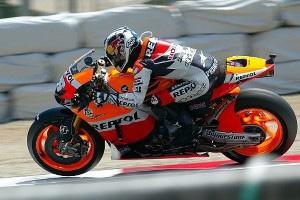 A nasty flare-up of a pre-existing injury possibly prevented Dani Pedrosa from living up to his full potential at this past weekend's opening MotoGP race in Qatar, and the Spanish rider says he's disappointed that the injury continues to plague him.

In the closing races of the 2010 MotoGP season, Pedrosa's left shoulder began acting up and causing him pain on some turns. Doctors told him that the injury would heal over the offseason and he'd be fine for 2011.

However, that appears not to have been the case. Pedrosa claims the injury did not trouble him at all in the preseason and he didn't even think about it. Yet in Sunday's race, after his Honda teammate Casey Stoner built up an insurmountable lead, Pedrosa looked to have a real shot at second, going head-to-head with defending champ Jorge Lorenzo. In the closing laps, Pedrosa's entire arm went numb and he had trouble steering the bike with his reduced strength. That allowed Lorenzo to push past him and claim second place.

An examination by doctors after the race found that Pedrosa's plexus, part of the nervous system, had stretched. The rider won't need to stop racing, but it will take some time before the injury fully heals.

"I would be lying if I said I'm not disappointed because this year the bike is working very well and I'm personally prepared, but unfortunately this complication has arisen and I have nothing else to do but give my best until the injury heals completely," Pedrosa told Cycle News.