Parker Brothers Choppers Builds Massive Big Wheel
Chaparral Motorsports
|
March 24, 2011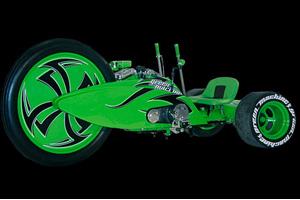 Motorcycle mechanics can put together some truly eye-popping custom bike designs when they put their minds to it, but even the craziest creators probably wouldn't have thought of what Parker Brothers Choppers recently dreamed up.


Everyone remembers their first bike, but before tearing it up on a motorized machine, most were stuck tackling the neighborhood on their Big Wheel. Many may have grown up with a specific model: Huffy's Green Machine.


According to Wired, Parker Brothers used the Green Machine as inspiration for their very own adult Big Wheel - packing an 80 cubic inch Harley Davidson Evo engine. The designers couldn't use motorcycle tires on the back, so they had to go with wider custom wheels, with a massive 45-inch tire up front.


"We had a Green Machine lying around the shop and we figured it would be a cool idea," Parker Brothers' Jeff Halverson told the news source. "It rides crazy and is fast as hell. If it wasn't for the rear tires we could have had it DOT approved."

The ride may look goofy, but Halverson claims that he hit 50 miles per hour on the bike when he took it out on the open road. Now, the designers are waiting to hear back from the Guinness Book of World Records, hoping to be awarded the title for largest wheel on a motorcycle trike.