A Buyer's Guide To 450cc+ Dirt Bikes
Chaparral Motorsports
|
March 3, 2011
There are many different types of motorcycles for riders to consider when purchasing a new bike, from models made for the street to those that are more comfortable in the middle of the woods. Riders who are planning to spend most of their time off-road, or on the motocross track, will likely favor dirt bikes.

Although there are many engine sizes and styles of dirt bikes available, the cream of the crop is the 450cc class. These are the bikes that all the top riders in AMA Supercross use, and competitors who are looking for speed no matter what terrain they're on will appreciate their increased power.

Riders should know that these bikes are highly specialized. They're primarily tuned for motocross racing, but can be used for any off-road adventure. One place they shouldn't really be used, however, is on the street. Those looking for a commuter or city bike can likely find cheaper and more suitable options.

Buyers in the market for a bike that can handle both the tough terrain and the street should look into the dual sport or adventure bike segment. Nearly every manufacturer has some variation of these bikes available, and they're all quite popular models. Dual sport bikes might also be a good choice for first-time riders, as they'll allow you to learn on either the street or the dirt.

Learning to ride on a dirt bike isn't particularly challenging, but you'll have to take it slow and choose some easy terrain to start out on. It might also be a good idea to select a model with a slightly smaller engine if you're planning to ride for the first time, as only experienced riders can really handle the 450s. Fortunately, manufacturers make dirt bikes as small as 50cc, and even have a few models for kids who are getting on a motorbike for the first time.

So once you've settled on a 450cc dirt bike, where to begin? There are a wide range of models available from several well-reputed manufacturers, so choosing between them can be tricky. Hopefully, this guide will help make the buying process just a bit easier.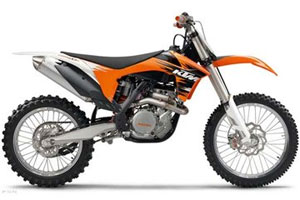 First up is the KTM 450 SX-F. It's worth noting that this bike is slightly more expensive than many of its competitors, coming in at $8,800. However, it also offers a significant boost in power. Why did KTM build such a powerful bike? "Because taking a ride on a cannonball is potentially somewhat addictive," the manufacturer states. If that type of brute force sounds appealing, than look no further.

In fact, some say that the KTM 450 SX-F is a bit too powerful. Racers need speed, obviously, but they also need maneuverability, and the KTM 450 was just a bit too much to handle for some of the smaller riders. Listening to that consumer feedback, KTM actually introduced a new model, the KTM 350 SX-F, to address that issue.

Many riders say that the 350 is a lot easier to move around the track, but it still provides enough power to hang with the top bikes in the class. Some racers, like Motocross des Nations winner Andrew Short, have adopted the KTM 350 in AMA Supercross competition over its more powerful sibling and found success with it. How can you win a race with a smaller engine? Simple: as much as motocross is about speed and power, it is also about traction, and the 350 has better traction than pretty much any 450 on the market. The 350 SX-F is slightly cheaper as well, with a starting price of $8,500.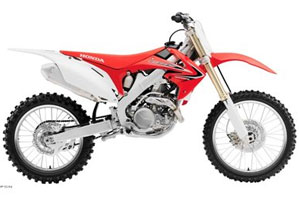 Not to be outdone by KTM's "addictive cannonball" marketing claims, Honda tells riders who choose the Honda CRF450R that they'll be serving other racers a "dirt-flavored banquet." Given the model's winning tradition in professional motocross events, it's hard to disagree. The CRF450R is the bike of choice for riders like Chad Reed, Kevin Windham and Trey Canard. For 2011, the model got a new fuel injector and a reprogrammed ECU for better air/fuel control. While other companies had to change their bikes' mufflers for new noise rules in the 2011 AMA season, Honda's old models already fit the bill.

The engine is a 449cc 4-stroke Unicam 4-valve single cylinder beauty that produces all the power and torque that riders will need to hit the finish line in front of their opponents. The CRF450R retails for $8,200 and is available in Honda's signature red.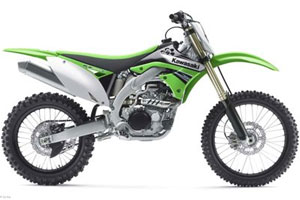 There are many top riders in AMA Supercross, but through the first six races of the year, the standout rider has undoubtedly been Ryan Villopoto. And that means the top dog in terms of bikes has been the Kawasaki KX 450F. Coming in at $8,200, riding this mean green machine deserves serious consideration. That's because it's powered by a four-stroke, four-valve DOHC single-cylinder engine with digitally-controlled direct fuel injection for an added boost. It's worth noting that the leader of the Supercross Lites class is also rocking a Kawi, although he's on the KX 250F.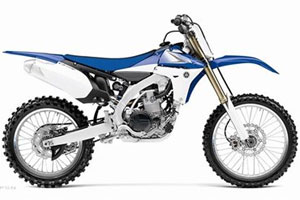 Right behind Villopoto this season is James Stewart, who favors a Yamaha YZ450F. While the YZ450F engine certainly provides power, as seen when Stewart grabbed the holeshot several times this season, Yamaha engineers have also focused on crafting a bike that offers superior handling. The bike received a new suspension for 2011 that the company claims will give riders better feedback while they're tearing around the track. The four-stroke, four-valve DOHC engine features Yamaha Fuel Injection and a 449cc displacement.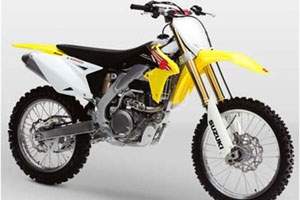 Of course, the defending champion of the track is the Suzuki RM-Z450. Ryan Dungey won the 2010 championship aboard this bike, although he's been having a slow start to the season - more due to bad luck than any problems with his bike. Suzuki could have simply rested on its laurels, but it still improved the bike for 2011 by increasing the compression ratio and tinkering with the ECU settings. One of the bigger adjustments is the addition of two optional couplers that can further adjust the ECU. This allows racers to easily tune the bike to their own riding style so that they can maximize performance.

It's easy to pick these bikes out even when they're flying around the track, mostly due to the simple color scheme: KTM is orange, Honda is red, Kawasaki is green, Yamaha is blue and Suzuki is yellow. But choosing your color - and thus your bike and brand loyalty - can be a bit tougher. The important thing to keep in mind is that all of these bikes are world-class machines that have only slight advantages and disadvantages. It's possible to win - and have fun - on any of them.