Bobbitt Wins Enduro Series Opener
Chaparral Motorsports
|
March 2, 2011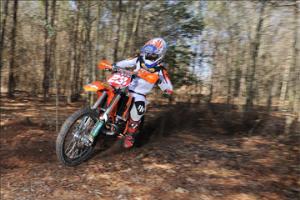 Heavy favorite Russell Bobbitt was able to capitalize on his strong testing to take the first round of the AMA National Enduro Series in Salley, South Carolina.

The FMF/KTM rider had the fastest time in four of the six tests leading up to the event. He continued his fine form on the course, finishing a full 48 seconds ahead of second-place finisher Brad Bakken. The course spanned more than 75 miles, and Bobbitt, a three-time national champion was smooth and fast for all of it.

"I just felt good all day and I was having fun so I think that helped me flow a little better today," Bobbitt told Cycle News.

Bobbitt and Bakken are actually training partners in the offseason, and the duo spent much of their time off preparing in Florida. In the tests before the event, Bakken was able to best Bobbitt in the fourth one. Michael Lafferty, who finished in third overall in the actual race, won the fifth test before Bobbitt took the sixth.

One of the highlights of the day was upstart phenom Stewart Baylor Jr. At just 16 years old, Baylor shocked many by pulling off of a fifth-place performance in just his fourth national race.