Strong Performances For Spies And Lorenzo On Day Two At Sepang
Chaparral Motorsports
|
February 24, 2011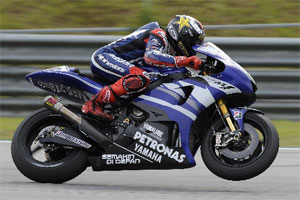 The second day of the three day test at Sepang saw Yamaha Factory Racing riders Ben Spies and Jorge Lorenzo again testing in sweltering conditions with track temperatures soaring through the day. Despite the heat it was straight down to business, both riders breaking under the 2.01 second laps swiftly. Texan factory newcomer Spies again spent another day delivering smooth fast laps, finding some extra grip on track through chassis changes. He suffered a small crash at the end of the afternoon session at turn seven but was unhurt and upbeat about his day. At the end of the test Spies stood fourth in the timesheets, 0.65 seconds behind the leader.


Team mate Lorenzo took the opportunity of today's sessions to re-confirm some setting changes, as with Spies, the Mallorcan World Champion was consistently quick and running under the 2.01 mark for the maj ority of the day. Lorenzo wrapped up this afternoon in fifth position just 0.76 seconds from the top of the timesheets.

Ben Spies
Yamaha Factory Racing Rider, 4th, 2'00.824, 54 laps

"I think we had a really successful day, we tried a little bit of a different chassis set up to try and improve the rear grip and we definitely succeeded in that. We did a few long runs and were quite fast on a hot track so it has been really productive finding how to be consistent in the heat. It's a pity I made a small mistake at the end of the day however I think we've gained a lot, especially with the rear grip of the bike."

Jorge Lorenzo
Yamaha Factory Racing Rider, 5th 2'00.931, 45 laps

"It was a hard and hot day today, we tried the test bike as well as my 2011 bike to reconfirm a number of new developments. We confirmed that the directi on is right so we will continue tomorrow with this direction on my M1. We've definitely improved the traction a lot, although we could still do with some more power."

Wilco Zeelenberg
Yamaha Factory Racing Team Manager

"Today was again very hot, although maybe not as hot as yesterday. We used the day for back to back test on all our focus areas, Jorge improved on last year so all the results were quite positive and we confirmed what we felt before. We were missing a bit of grip today which we couldn't find, the track conditions changed a lot over the day so we need to check our data and see where we can find some more."

Massimo Meregalli
Yamaha Factory Racing Team Director

"We had another interesting day with Ben, learning quite a lot. We worked a lot in weight distribution and got some good feedback. At the end, apart from the crash, Ben was very happy with the solutions we've found during the session. Jorge today made a few back to back comparisons providing positive confirmation on the improvements to the bike. Tomorrow he is going to start with the best combination of today's results. Overall we took another step forward as team, both sides having a clear positive direction to move in."