Leatt Unveils New Street Neck Brace
Chaparral Motorsports
|
February 22, 2011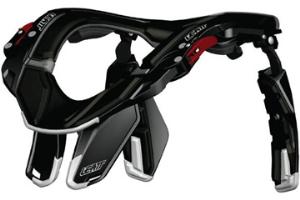 Riders who want protection that goes beyond the standard motorcycle helmet may want to look into the various neck brace products available. Unfortunately, while this gear sees use in motorsports, there aren't many models designed for the street and sportbike market.

Leatt is hoping to change that with its new STX Brace, specifically designed for street riders. This new brace is specifically designed to fit comfortably with traditional street bike apparel and positioning. For example, it features space to accommodate a back protector or speed hump.

The new brace will come in three different sizes, two colors and will retail for approximately $400.

"Leatt has sold well over half a million motorcycle neck braces and is proud of how many potential injuries we've saved off road riders from," said Phil Davy, Leatt's general manager. "We are now very excited to be offering the street riders a specifically designed neck brace and hope to add many more riders to the list of saved by Leatt motorcyclists."

The company also makes the GPX brace, which is aimed at those racing in competitions.