Blake Young Finishes Test At Chuckwalla
Chaparral Motorsports
|
February 21, 2011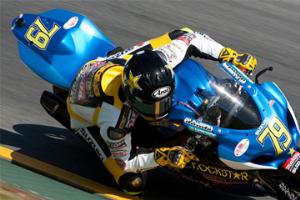 Blake Young of Rockstar Makita Suzuiki and teammate Tommy Hayden had a one-day test at Chuckwalla Valley Raceway last week. After spending time there, they recently returned for a two day test. However, intense winds prevented them from continuing on the second day, according to Cycle News.

Despite the setback, the test proved to be extremely productive as Chuckwalla is a real road course where racers can apply to what they learn there on most other tracks, unlike Daytona which can only be beneficial when racing there.

"We got out there. It seemed like it was shaping up to be a nicer day than and all of a sudden the wind started rolling in pretty bad, started kicking up some dust and some sand was blowing on the track really, really hard," Young told the news source. "Coming out of some of the turns the wind would really push you hard and almost push you off the track, and it was big gusts of wind, so it was pretty unpredictable. It just felt like we weren't going to get much done testing out there."

The Makita Suzki's team manager, Peter Doyle, said they accomplished more in the two days at Chuckwalla than four days at Daytona.