Sebastien Tortelli Working With Blake Wharton
Chaparral Motorsports
|
February 17, 2011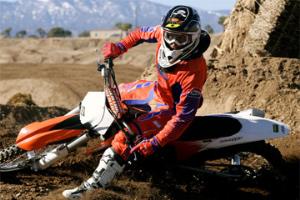 Two-time World MX Champion Sebastien Tortelli is currently helping amateur rider Blake Wharton train for the AMA Supercross series.

Toretelli told Cycle News that they are working on Wharton's riding technique and building his confidence. He said that Wharton is in great physical shape, so they are mostly focusing on mental training.

The French moto star also trains pro riders and has a traveling motocross school called ChampFactory where he helps out riders in South America, Europe and the U.S. He told the news source he is based out of California and plans to add a new pro rider to his team, which would expand the school. Toretelli also said he is focusing more on his school, training amateur and pro bikers rather than practicing himself. However, he told Cycle News that he still does jump on his KTM 350 every now and then.

He also claimed that he has no plans to returning to Europe anytime soon and wants to stay in San Diego, California, where his kids are growing up.

Toretelli is a top ranked rider in both the American Motorcyclist Association National and Supercross competition as well as the Europe-based Motocross Grand Prix World Championships.