Husqvarna Has A Hectic Valentine's Weekend
Chaparral Motorsports
|
February 16, 2011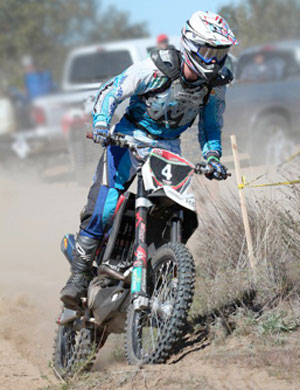 Valentine's weekend was a sweetheart for Cory Graffunder, but a mixed bag for David Kamo and Jamie Lanza and no love at all for Nick Burson as the Zip-Ty Husqvarna team did battle on both sides of the border. Lanza and Kamo contested the Adelanto GP on Saturday, Kamo and Burson raced the National Hare & Hound on Sunday and Graffunder won the Tractor Hare Scrambles in Tecate, Mexico.


Canadian rider Cory Graffunder made it a truly international race weekend for Zip-Ty Husqvarna as he returned to Mexico for "The Race" as the 2011 Tractor Racing Hare Scrambles was billed. "It was a really fun race," claims Cory. "After racing the Tecate Enduro a couple months ago, I was all over the opportunity to come back to race in the same area!" Back in December, Team Husqvarna made a clean sweep of the infamous Tecate Enduro... Must be something about Mexico, since Husky has done well down there ever since Malcolm Smith first won the Baja 1000!


"I was 4th off the line, but it was really hard to pass on the dusty single track trails," says Graffunder. "By the time I finally made it into second, Ivan Ramirez had all but checked out, putting a minute on me. I just took it easy and learned the trails on my first lap, then on the second lap I pushed harder and was able to catch and pass Ivan." By the end of the race, Graffunder had extended his lead by a couple minutes over Ramirez for a convincing victory.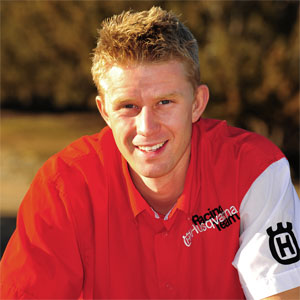 "We were pretty busy for an off-weekend," notes Team Zip-Ty Racing boss Ty Davis. In addition to Graffunder going big in Baja, the resurrection of the historic Adelanto Grand Prix brought out the Zip-Ty team to defend Ty's status as the once and future "King Of Adelanto." Although a knee injury kept him off the throne this time around, Kamo and Lanza stepped up in Ty's place. Kamo came on strong with his TXC511, which was well-suited to the fast and sandy track. Both he and teammate Lanza got good jumps on the start and were running inside the top 10 right from the start. Kamo ran 9th until he had to pit for gas, at which point he let Lanza sneak by. From this point Lanza led Kamo to the finish line as they ultimately finished 6th and 7th overall.


"I raced the Adelanto GP in the Open Pro class on my TXC250 practice bike," reveals Lanza. "Many of the top 10 WORCS riders were out, along with some local motocross talent and the course was very dusty as we had to play 'follow the leader' through most of the off-road section. But my TXC250 is very fast and helped me keep pace with the 450s to a sixth place finish on Saturday."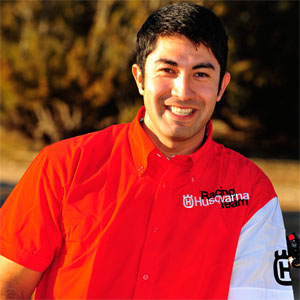 Sunday marked the second round of the National Hare & Hound series at Red Mountain. Kamo pulled double-duty to race with Nick Burson on their TXC511 Zip-Ty Racing Husqvarnas. Both Burson and Kamo were running inside the top 10 at the start, but the oppressive dust made visibility a real issue. Around the mile 8 marker Burson was trying to stay out of the dust and crashed into a ravine at full speed, while Kamo also had some serious issues. At least he didn't take the beating Burson did in the dust!


"I didn't get the start I wanted when the banner dropped," notes Nick. "I was in a lot of dust, but I think I was somewhere around top 10 before I hit a huge ditch. I tried to jump across... but didn't make it and it sent me over the bars. With a beat up bike and bruised body, I stayed at the ditch for a while slowing other riders down so they wouldn't crash, then rode back to the pits. My race was over as soon as it started. I was really hoping for a good showing and I'm disappointed with what happened because I let the team down. I feel healthy though, so that is a good thing. I'm going to the doctor to get my shoulder checked out just to be safe. Thanks to the whole Zip-Ty Husqvarna Team for supporting me."