Are LED Headlights Worth The Price?
Chaparral Motorsports
|
February 15, 2011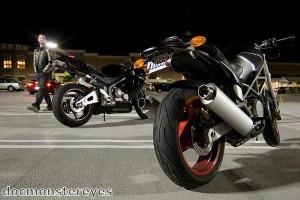 The rise of LED lighting as a viable technology has introduced a new dilemma to consumers - whether or not to upgrade to the brighter, but more expensive, bulbs.

Everything from cars to television sets now offers some type of LED-backed technology, but upgrading typically requires a bit of an investment. According to AllAboutBikes, LED lights for motorcycles have been around for awhile, but recently saw a spike in popularity due to the release of "Tron: Legacy." The redesigned "lightcycles" in that film gave off an eerie blue glow that made the bikes look undeniably cool.

However, the question remains whether upgrading for bikes is worth it, as the price for LED headlights normally runs around $400. There's no doubt that they shine better than standard headlights, as confirmed by Harley-Davidson on the manufacturer's website.

"LED Lamps are brighter and whiter in color and provide a superior light pattern over standard incandescent lamps," reads the site.

Aesthetically, LED lights can definitely attract attention. They're also available in a wide range of colors. Those going for a stealth or retro look probably won't be interested, but riders who want their cool paint job to be seen at night may just want to consider it.