Star Offers Up Midsize Stryker
Chaparral Motorsports
|
February 1, 2011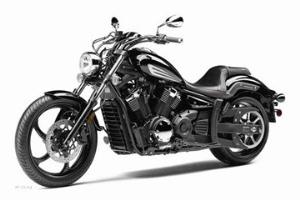 Trends come and go, but a classic and well-engineered bike will always catch on. That's what Star is banking on with the introduction of the new Stryker.


According to Motorcycle Cruiser, Star had a big hit with the Raider, despite the current trend of leaner and meaner cruiser bikes. The Raider defied all that by offering a big engine with an even bigger price tag, but the Raider was so well-designed that it sold well anyways.

With success like that, it makes sense that the company would follow up with a pared-down version for those who don't want to break the bank on a bike. That's where the new Stryker comes in.

Star's engineers have done a good job of molding a bike that calls the successful Raider to mind while still carving out its own identity. And with a V-Star 1300 engine and transmission powering the whole package, this is a bike that rides as well as it looks. The news source calls the handling "almost perfect," though it notes a few "hiccups" when the bike is leaned heavily.

All in all, riders who enjoy the Raider's style but not it's price should consider giving the slimmed down Stryker a look when it hits motorcycle stores.