Harley Debuts New Blackline
Chaparral Motorsports
|
January 25, 2011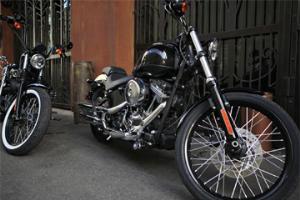 Harley has taken the cover off of its newest addition to its Softail cruiser lineup, the Blackline.

Fans of the classic lowriders will likely be salivating over this modern machine, which features the lowest seat height of any Harley ever at 24 inches. The styling is classically minimalist, with a heavy use of black paint, as the name implies, along with small touches of silver on the cylinders and a chrome timing cover.

While the Blackline has classic all over it, it also breaks with tradition in a few areas. One feature that immediately pops off the bike is the use of split-drag handlebars, which are internally wired and mounted directly to the top triple clamp.

Yet the Blackline isn't all style and no substance. This beast is powered by a V-Twin engine producing 89 ft-lbs peak torque at 3250 rpm through a six speed transmission. It also features rear mounted suspension, which Harley claims gives the bike a "thoroughly modern" feel when it comes to handling while still giving riders the satisfying jolt of feeling the power of the engine.

All in all, this is a model for cruiser enthusiasts who love to hit the road and look good doing it - Harley says that the bike gets its moniker from "the long black line of the road ahead."