Vaquero Joins "bagger" Lineup
Chaparral Motorsports
|
January 4, 2011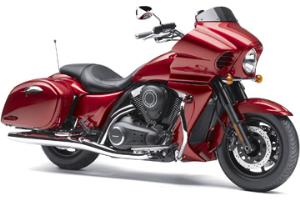 Riders who favor longer journeys need a bike that will be able to handle the trials and tribulations of the road while also storing their gear comfortably and easily. This is why many riders favor "baggers," or bikes that come with built-in saddlebags that can store plenty of items.

Motorcycle Cruiser reports that the bagger market has heated up in recent months as companies look to steal some of the market away from Harley-Davidson. Victory and Star both recently debuted new models, and now Kawasaki is getting in on the fun with the Vulcan Vaquero.

The Vaquero is similar in many ways to other models in the Vulcan 1700 lineup, but is immediately recognizable due to its two large black saddlebags on the back of the bike. The company claims that these two bags hold up to 10 gallons each. While "baggers" aren't typically thought of as the most stylish models, Kawasaki has made an attempt by giving the bike a sleek all-black finish with just a touch of chrome on the exhaust pipe.

Riders still get plenty of performance out of the 1700cc V-Twin engine that is found on the other bikes in the Vulcan lineup. A six-speed transmission with overdrive ties the whole package together.

The Vaquero comes with an MSRP of $16,500, and Kawasaki has simultaneously released a line of motorcycle accessories so that riders can customize their bike however they choose.