Rockstar Makita Suzuki Ready For SX Season Opener
Chaparral Motorsports
|
January 4, 2011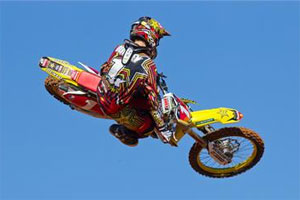 Team Rockstar Makita Suzuki's Ryan Dungey is ready to pick up where he left off in order to defend his 2010 title in the 2011 AMA Supercross Championship that kicks off next Saturday.


The 2011 season will be one to watch; as it includes what many are calling the deepest, most-competitive fields in AMA Supercross history with no less than half-a-dozen riders who all have a legitimate chance to top the podium. Dungey and his Yoshimura-equipped 2011 Suzuki RM-Z450 will be joined by new team mate Brett Metcalfe. Metcalfe came to Suzuki after a strong outdoor season, scoring second behind Dungey.


Dungey's 2010 season was historic, with the 21 year old becoming the first Rookie to win both the AMA Supercross Championship and the AMA 450 Motocross Championship in the same season. Combine that with his Supercross Lites and AMA 250 Motocross Championships in 2009 and Dungey has won four consecutive titles on his RM-Zs, not to mention the 2009 and 2010 MX of Nations titles. Dungey will take this momentum into 2011 and is looking forward to the challenge.


Dungey said: "2011 should really be a great season; one the fans can really get into. I think there are six or seven guys who have won a race and are still able to win on any given night. Our team has had a really good off-season. We sort-of just carried the momentum in from last season and just went back to work. The new Suzuki RM-Z450 is pretty-much ready to go out of the box, but we've also built a great team around it. Yoshimura, Rockstar and Makita are all back and the atmosphere in the shop is really strong. Mike Webb has been great to work with and 'Goose' is back, so all the pieces seem to be falling into place. We have all done our work and now we will all see what takes place when the gate drops at Anaheim."


Australian Brett Metcalfe is the newest member of the Rockstar Makita Suzuki Team; coming off a season of racing that got him noticed and put him at the top of new Team Manager Mike Webb's wish list for 2011. Metcalfe has adapted well to the new team and his Suzuki RM-Z450, having spent countless hours on the test and practice tracks preparing for his new challenge.


"I'm really looking forward to A1," said Metcalfe. "It's very exciting for me, as it is the first race with the Rockstar Makita Suzuki team and on my new Suzuki RM-Z450. It's also my first season in the SX class and that adds a bit to the equation, although I'm very comfortable on the bike and whether it's a 250 or 450, I'm just into racing. I like to race and that's where I hope to show my strength. The team and sponsors have been great and we've all put a lot of effort into testing and training. It will be good to see how that all pays off. It will be a long season, but Anaheim 1 is always a good test."


Webb has been a staple in off-road racing for nearly three decades. As Team Manager for American Suzuki's off-road program since 1992, he led his team to 22 major off-road Championships, including six GNCC Pro Bike Championships. Webb was named Team Manager for the Rockstar Makita Suzuki SX and MX Team in early-October of 2010.


"I'm stoked to have the opportunity to manage this Championship Team," said Webb. "The potential is so great with two awesome riders like Ryan and Brett and the support of Yoshimura and all of our sponsors. I'm really looking forward to the 2011 season."


The 2011 Rockstar Makita Suzuki team's season kicks off Saturday, January 8th at Angel stadium in Anaheim, California.