Mission R Takes Green Technology To The Limit
Chaparral Motorsports
|
December 22, 2010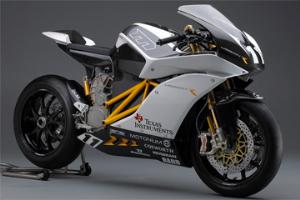 Slowly but surely, electric motorcycle manufacturers are closing the gap on the powerful specs of gas-powered bikes. Considering the new Mission R recently unveiled by San Francisco-based Mission Motors, that gap might be at its narrowest point yet.

The new Mission R won't be available in motorcycle stores anytime soon, as the company developed the model solely for competition in the 2011 TTXGP electric racing series. Still, the eye-popping numbers claimed by the company will give green riders an idea of the technological potential of electric motorcycles.

The superbike uses an electric motor-battery combo to produce 141 horsepower, which puts it in the middle range of 600cc and 1000cc superbikes, according to the Wall Street Journal. However, its 115 foot-pounds of torque actually gives it an advantage over similar models from gas companies like Honda and Suzuki. The bike also boasts a ridiculous top speed of more than 160 miles per hour.

While the engine might run on electric power only, that doesn't mean the developers couldn't borrow high-performance parts for other areas of the bike. Motorsports enthusiasts will recognize the Brembo brakes and Marchesini wheels from more popular bikes, while the custom chassis ties the whole package together.

With such impressive statistics, the Mission R will definitely be the bike to watch in the 2011 TTXGP season.