A Slightly More Subdued Long Beach Show
Chaparral Motorsports
|
December 20, 2010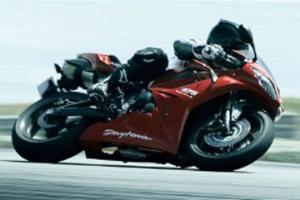 Motorcycle riders have likely felt the effects of the poor economy firsthand, as many manufacturers have cut back on their lineups in recent years. It appears those cutbacks are having an effect on motorcycle shows as well, as this year's Progressive International Motorcycle Show in Long Beach, California, will have a slightly reduced lineup of models on hand.

The Los Angeles Times reports that 2010 will see 450 motorcycles on display, compared to 725 in 2008. Some manufacturers, like Piaggio, owner of Aprilia and Vespa, have pulled out of the show completely.

Still, most of the major manufacturers will still be well-represented with a diverse lineup of sport bikes, scooters, electric bikes, cruisers and more. One of the highlights is the triumphant - excuse the pun - return of Triumph, which will showcase a new lineup at the show after a five year absence. Centered around the new Tiger 800 adventure bikes, the company boasts that its new lineup is the most expansive in Triumph's century-long history.

And even if there are less bikes on the floor, that doesn't mean there will be a dearth of activities for fans to engage in. Whether it's shopping for motorcycle parts and accessories from vendors or taking the kids to a demo, those who make the trip will not likely notice that some companies' lineups are a bit contracted at the moment.