Ducati To Offer All-black Diavel After All
Chaparral Motorsports
|
December 15, 2010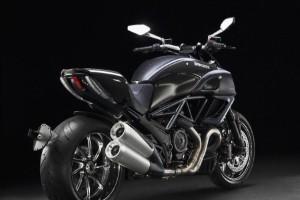 Ducati has responded to consumer outcry by offering an all-black option for its upcoming Ducati Diavel power cruiser.

The Ducati Diavel was officially unveiled at Milan's EICMA International Motorcycle Show in November, where it was met with a warm reception from the motorcycle community. Originally, the choice of color options for the Diavel were either red or white, shunning the traditional all-black that nearly ever manufacturer offers on popular models.

However, enthusiasts could opt for an all-black look by purchasing the Ducati Diavel Carbon. This version of the bike sported a sleek black look because it replaced the original framework with carbon fiber parts. The only problem was that this was a $3,000 upgrade over the base Diavel.

Fortunately, Diavel has bent to consumer feedback and will now offer a "diamond black" color scheme when the bike ships in April. White knights might be a bit disappointed, as the black choice will replace the previously revealed white option.

The manufacturer has also announced a number of motorcycle accessories so that riders can customize their bike, in addition to motorcycle apparel that will compliment the color schemes.