Electric Bike To Challenge Gas-powered Rivals
Chaparral Motorsports
|
December 10, 2010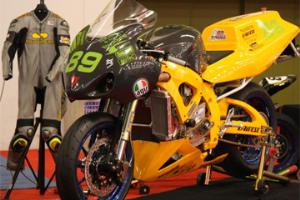 After being excluded from electric motorcycle competitions like FIM and TTXGP, Swigz.com Pro Racing team owner and racer Chip Yates says he'll be testing his electric-powered machine against gas-powered bikes in the WERA Pirelli Sportsman Series Twin Superbikes class.

The showdown will take place on January 9th at the Auto Club Speedway in California, where the electric bike will go up against gas stalwarts like the Ducati 1198 and KTM RC8. Yates estimates that the bike's power-to-weight ratio will put it in the middle of the pack, although the group plans to upgrade the horsepower after the first race.

The owner and racer pulled no punches in declaring his dissatisfaction with the electric-only competitions, which recently lowered their weight restrictions to 250 kg (551 lbs). Yates' bike weighs in at 266 kg (586 lbs.)

"Clearly, these championships are more concerned with promoting scooter development, and our bike is so much faster than the electric competition that we feel far more inclined to push our bike's unique technology platform forward in the ultimate competitive environment of gasoline bike racing," he said in a statement.