Daytona Beach Crowns Motorcycle "boss"
Chaparral Motorsports
|
December 3, 2010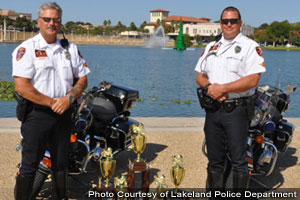 Some police officers may choose to use motorcycles as a convenience, but in Daytona Beach, Florida, it's a way of life.

That's why the Daytona Beach Police Department and a local online superstore hold an annual competition every year to determine which officer is most adept at using their bike. The Lakeland Ledger reports that for the second year in a row, local officer Steve Strickland was able to take home the title.

The winner each year is crowned "Daytona Boss," and Strickland retained his title by navigating the timed obstacle course like a boss. Strickland, who is the head motorcycle instructor for the department, praised his competition, saying that all involved gave it a good shot.

"There's a lot of hard work and dedication," he told the news source. "The competition was so tight for two years that it could have gone to any of the five riders. I've just been fortunate."

Eighty riders competed in all, with the top five fastest in the initial run allowed to compete for the "Boss" title. The others were grouped by level of experience - master's (also won by Strickland), intermediate and beginner. Several other special competitions were also held, like the slow ride and team competition, with Strickland taking third place in each.