After Winning Season, Zemke Is Jobless
Chaparral Motorsports
|
December 3, 2010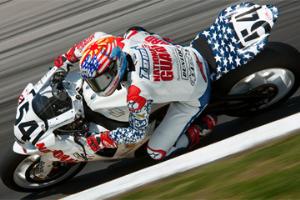 Most racers know that getting on the podium is a good way to ensure that they'll keep their job. Unfortunately, that's not always the case.

Cycle News reports that Jake Zemke placed third overall in this year's American Superbike season, finishing behind Josh Hayes and Tommy Hayden. Zemke piloted his Suzuki GSX-R1000 to two wins early in the season followed by several podium finishes. Although his form fell off toward the end, he assumed his third-best performance would be enough to get him back on the track in 2011.

That appears not to be the case. With many teams folding or struggling for money, there will be less bikes on the track next year. Michael Jordan Motorsports declined to bring Zemke back, instead bringing in Roger Lee Hayden and Ben Bostrom. Since then, no team has sought Zemke's services.

It's still possible that a team could bring Zemke aboard before the season starts in March, but he's already lost valuable testing time.

"It's pretty crazy," Zemke told the news source. "When I sit back and look at things, I won two races and I think I podiumed in four or five [five podiums total] and finished third in the championship. Basically the two guys who finished ahead of me were on factory bikes and we were on a privateer bike. I think we had pretty good results, but at the end of the day it's... well, it's kind of weird."