Gun Case Buyers Guide
Chaparral Motorsports
|
November 23, 2010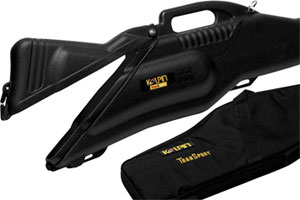 Protecting your firearms from damage in transit or while in storage at home is not only a worthy endeavor, in some states it's the law. Safe storage to protect your firearms from damage, locking gun cases and safes also keep your guns safe from curious children or burglars. If hunting with your ATV or RTV, then protecting your firearm from scratches and damage as you travel to and from your hunting spot is critical. You don't want your Sako 85 carelessly bungeed to the side of your ATV as you blast through the bush. Sorting out the buying basics and what to look for when making gun case purchases can be tough, but Chaparral Motorsports is here to help.


There are four criteria to use when making a gun case purchase: materials, locking mechanisms, size/capacity and use. All four criteria are important to finding the perfect case for your firearms.


Determine which materials work for you
Gun cases commonly come in two types, hard and soft. Soft cases while offering excellent protection, also present a more economical cost over the hard shell type. The most inexpensive soft cases are made from canvas or vinyl. These materials will protect your gun, but lack the durability of soft cases made from traditional leather, ballistic nylon or cordura fabrics. Cordura, ballistic nylon and leather are the most abrasion resistant of the soft materials used, and provide the greatest protection of all the soft materials used. Aesthetically, cordura has a more natural, cotton-canvas sort of feel; ballistic has a decidedly synthetic feel and look. Cordura has a higher abrasion resistance, while the ballistic has higher tear strength. However, in both fabrics the tear strength and the abrasion resistance are so much higher than necessary, the end-user will seldom if ever experience any difference between cordura and ballistic. Leather is very strong and resistant to the factors that would otherwise damage your firearm, and has a nice rustic traditional look. Leather requires some basic care and maintenance though, so if you are looking for a more worry free case, go with the cordura or ballistic types.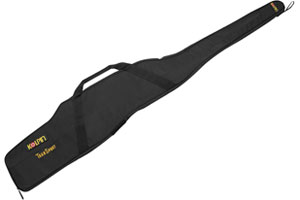 Soft bags are popular because they have the advantage of being very lightweight, quiet, and easy to manage. They may also be made with camouflage printed materials, making them more difficult to be detected by overhead fowl or game in the brush. Waterfowl specific cases will also float if accidentally dropped in the lake. The interiors of soft cases are frequently lined with fleece, flannel or foam to further shield your firearm from scratching.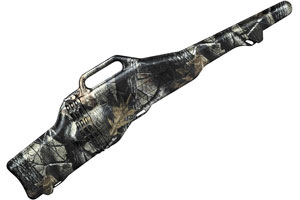 Hard cases offer the maximum protection for your firearm. The materials most often used are aluminum or composite materials such as plastic or fiber reinforced materials. Aluminum can withstand considerable amount of abuse while protecting your firearm. It is the standard metal used for building a durable case that is still light enough to be carried and pass airline travel restrictions. If you travel with your firearms, be sure your case is FAA (Federal Aviation Administration) approved.


Plastic and fiber reinforced compounds offer weight reduction and super-high durability. This is why the military uses these types to transport weapons in highly demanding combat environments. Composite cases have incredible strength and will disperse impacts due to the nature of the material.


Finding the right carrying case for your gun will save your firearm from damage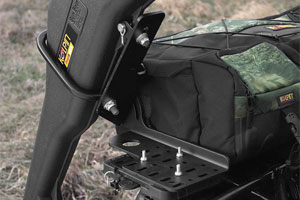 Use:

Using your ATV or UTV as a hunting platform can present some unique challenges to keeping your guns safe from damage. Fortunately Kolpin and Doskocil both make heavy-duty polyethylene or polyester gun cases designed specifically for use on ATV/UTVs. They offer a variety of different brackets and mounting systems for holding your case and gun in place safely as you trek through the woods. Kolpin makes a gun boot that features an easy access hatchback design with a snap close cover. This allows you to get to your firearm quickly and quietly for those opportunities that always seem to present themselves when you are not quite set up. Both the Kolpin and Doskocil cases provide ample room for rifles with attached scopes up to 50mm.


Locking mechanisms:

Most soft cases generally will accommodate a simple padlock. Hard cases typically come with lockable steel latches or combination locks on the latches similar to those on a brief case. Hunters need to remain quiet and slow moving when out in the wilderness. The locks should not create to much noise when unpacking your firearm.


Size capacity:

Determine what size case you will need for your specific use. Make sure that your case will hold your rifle and has enough room for the attached scope. A snug fit is best to avoid unnecessary movement within the bag. Some gun cases have external pockets to hold extra magazines, or ammunition. Gun cases with the MOLLE system, allow you to customize the external pockets to meet the unique carry needs of your trip. MOLLE is an acronym for modular lightweight load-carrying equipment systems utilized by the United States Army. The system's modularity is derived from the use of rows of heavy-duty nylon stitched onto the case as to allow for attachment of various MOLLE-compatible pouches and accessories.Always make sure you clear your weapon, and place ammunition back in its storage pocket before placing your firearm back in its case.