Suzuki Captures World Endurance Title
Chaparral Motorsports
|
November 15, 2010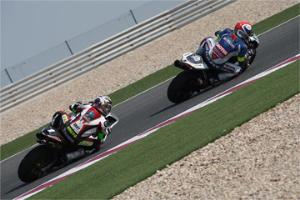 Building a bike that is race-worthy is a tall task. Building one that can hold up over eight hours of pressure is another matter entirely.

That's exactly what the Suzuki Endurance Racing Team (SERT) was able to do, by modifying a Suzuki GSXR-1000 well enough for Suzuki to capture its tenth manufacturer's title in the FIM World Endurance Championship.

Rather than pure speed, endurance races are focused on bikes that can maintain a high output over several hours of intense competition. The SERT bike captured first place in the "8 Hours of Doha" event, propelling Suzuki to first overall in the rankings.

If that sounds like a long time to ride a bike, consider some of the other races in the annual series - like the famous "24 Hours of Le Mans."

Suzuki was able to finish with a four-lap lead over its competitors. Going into the race, the Kawasaki Bollinger team had the advantage in the points standings, but could only manage a fourth-place finish. That allowed SERT to overtake them and become the new world champions, despite the fact that they couldn't finish the Le Mans race earlier in the year.