KYMCO USA Sponsors First Annual Scooter Only Land Speed Trials
Chaparral Motorsports
|
November 15, 2010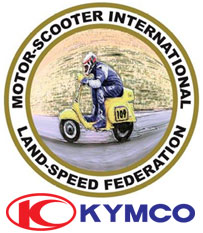 KYMCO USA is pleased to announce their sponsorship of the First Annual Scooter Land Speed Trials. This unique event will take place on Historic Route 66, Devore, CA on November 21, 2010.

The Motor-Scooter International Land Speed Federation (MSILSF) is the newly created and self-appointed sanctioning organization of motor-scooter land-speed records. The need for this organization came about due to motor-scooter riders' desire to participate in the AMA/BUB land speed trials at Bonneville. When their proposed changes to allow scooters and create a separate scooter class were rejected, the Motor-Scooter International Land-Speed Federation (MSILSF) was formed. While there may be some changes in the AMA/BUB rules for 2011, the MSILSF decided to host a scooter only event this year.

KYMCO USA, with its reputation for quality scooters, was an obvious choice for a sponsor. This alliance goes nicely with their involvement in the recent Scooter Cannonball Run. The MSILSF will have several different classes and KYMCO has scooters that could participate in nearly all of them.

In fact, four riders have already registered to ride in four different classes on KYMCO scooters. Daniel Smith of San Diego, CA will be riding a KYMCO Super 9 50cc in the 50cc class. Also from San Diego, Alan Spears will cover the 70cc class on a KYMCO S9 Malossi 70cc. Michael Tockey, a KYMCO Dealer in Indianapolis, IN will be riding a KYMCO Super 8 in the 150cc class. And in the 250cc class, Richard Newman from Oceanside, CA is entering on a KYMCO Grandvista 250cc.

"We are excited to be part of this historic race and to be a sponsor for the first ever Motor Scooter World Land Speed Record being set. KYMCO USA is moving to the forefront of the scooter world, so it only makes sense for us to be involved," explained Rick Pawelka, Director of Marketing at KYMCO USA.

The race will be run one scooter at a time over a measured half mile course marked by cones and trophies will be awarded to persons attaining the highest top speed in each class. The records will stand until broken at the next annual event.