Stubby Tire Tools Protect Against Wheel Damage
Chaparral Motorsports
|
November 12, 2010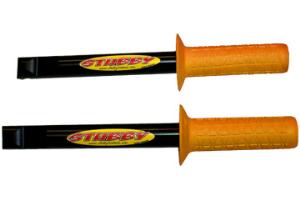 Riders who perform their own maintenance know that regularly changing motorcycle tires and wheels are an important part of bike upkeep. But anyone who has changed a bike's tire before probably knows that it's a delicate process.

A metal tire iron can potentially scratch a rim or even puncture a tube. For custom bike owners who have spent time and money on modified wheels, using metal tools might leave them a little wary of nicking or scuffing an important part.

Bikers who are hoping to keep their wheels in pristine condition may want to check out Stubby Tire Tools. The Stubby is made of a tough plastic compound rather than the traditional metal used on most tire irons, a factor that the company claims allows riders to avoid damaging their bike while still performing the necessary maintenance.

The product comes in a variety of sizes, including a small model designed to fit in a fanny pack for on-the-go repairs and a slim version with no grips that will allow riders to get into some of the tighter areas underneath their bike.

Those planning on riding through the winter may also want to consider purchasing new tires for their bike that will allow them to achieve better grip on slick roads.