KTM Partners With JDR Motorsports To Form Supercross/Motocross Support Team
Chaparral Motorsports
|
November 11, 2010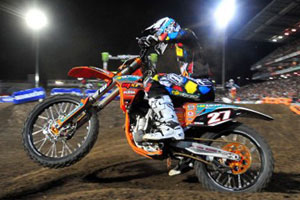 KTM Motorsports is proud to announce its newest partnership with JDR Motorsports to launch a new factory supported satellite team at this year's Supercross opener at Angel Stadium on January 8, 2010.

The JDR Motorsports/KTM Team has signed a three-year contract with the Austrian motorcycle manufacturer to race in the U.S. AMA Supercross and Motocross Series. For 2011, the team will support American rider PJ Larsen in the West AMA Supercross Lites and 250 Motocross class and Australian rider Tye Simmonds in the AMA Supercross and AMA Motocross classes.

Larsen joined the Australian JDR Motorsports/KTM Team in 2010 and had a successful beginning earning the Pro Lites Australian MX Championship in his first outing. Larsen is currently competing in the Australian Super X Series and sits 2nd in championship points halfway through the season. The American rider is eager to return home after the series to get back to the U.S. racing circuit. "I have enjoyed my racing experiences in Australia and am grateful for the opportunity JDR has given me but I am looking forward to returning to the U.S. to race against the top riders," remarked Larsen.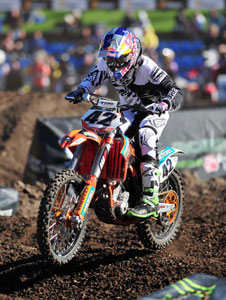 Larsen's teammate, Simmonds, is equally excited about making the trip over to the states for the 2011 season. As a prominent amateur rider, Simmonds traveled back and forth to the U.S. to race at the prestigious amateur events. Simmonds goal has always been to race full-time on the U.S. circuit and he is thrilled to compete on the new KTM 350 SX-F in the Supercross and Motocross Series.

The JDR Motorsports/KTM Team will be managed by former professional racer Nathan Ramsey. A former KTM Factory rider, Ramsey, is excited to return to orange colors for 2011. "KTM Motorcycles were great bikes when I raced them a few years back, but to see the transformation they have made with the introduction of the 2011 motocross line is truly exciting and encouraging as a racer and now a Team Manager. We truly believe we have the best product and company behind our team to achieve our goals this season," remarked Ramsey. Vincent Berini has been selected as Crew Chief for the JDR Motorsports/KTM Team. Craig Behl has signed on as mechanic for Tye Simmonds while Steven Stoyakovich will spin wrenches for PJ Larsen.

JDR Motorsports started its racing initiatives a few years back when the father (Derek Rynenberg) and son (Jay Rynenberg) team sat together and collaborated on a way to start racing. "Both my father and I are avid racing and riding enthusiasts and were eager to start our own team," commented Jay Rynenberg. "When we found out Australian rider Andrew McFarlane would be returning to Australia we thought the timing was unbelievable. We struck a deal with Andrew and were able to start up the team quicker than expected with his guidance and expertise."

From the start, the JDR Team has had aspirations of racing in the U.S. "Our goal is to become the best racing team and in order to do that we need to race against the best. We believe racing in the U.S. will test our riders against the best out there. We will continue to support our Australian JDR Motorsports/KTM Team at the Pro level and run the U.S. team completely separate. Our team in Australia will remain intact as it is a great stepping stone for aspiring Australian riders to try the US circuit. "

He continued, "We at JDR are extremely excited for this upcoming 2011 season. We have a great team surrounding our riders who are bringing a huge amount of experience to the table. KTM has been an instrumental part of JDR Australia's success and we are thrilled to continue our relationship with KTM as we expand to the US on the brand new 2011 motocross models. The late Andrew McFarlane was a huge contributing factor to our rise to the top in Australia and a big help to our launch in the U.S. I hope that we can make him proud and fulfill our joint vision of one day winning U.S. Championships," stated Rynenberg.