KTM Reveals Street Bike Line
Chaparral Motorsports
|
November 9, 2010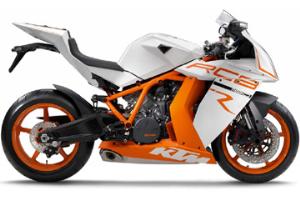 KTM has announced its new street bike lineup for 2011, with eight new or updated models slated for release next year.

The company recently unveiled the new designs for 2011 models of the 1190 RC8 R, 990 Adventure R, 990 Adventure, 990 SMT, 990 SMR, 690 Enduro R, 530 EXC and 450 EXC. Most of the models have undergone minor styling facelifts, but the 1190 RC8 R and 990 SMT both feature all-new motorcycle parts that are designed to give riders better performance on the streets.

The 1190 RC8 R is the top bike offered by the Austrian manufacturer in terms of street bike models. The 2011 model features an 1195cc V-Twin engine that produces 175 horsepower and 94 lb-ft of torque. There's also a new anti-hopping clutch that KTM claims improves downshifts and corner entry. The 1190 also features an updated instrument gauge that displays fuel economy and allows riders to track various engine functions. In terms of the styling, the bike is available in either orange and black or orange and white.

Also getting a significant update is the 990 SMT. In addition to a new white paint scheme, the model features a new anti-lock brake system with steel-braided brake lines and Brembo-manufactured calipers.

Of the new models, the 530 and 450 EXC are available now, while the remaining models will go on sale in January.