Honda's Concept Bridges Gap Between Scooter And Bike
Chaparral Motorsports
|
November 8, 2010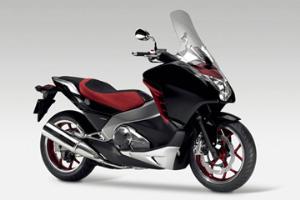 The motorcycle and scooter riding communities are typically thought of as separate entities, but Honda is looking to bridge the gap between the two with a new concept vehicle that combines the high-performance of a motorbike with the convenience of a scooter.

The Japanese automaker unveiled the New Mid Concept at the EICMA show in Milan, continuing its recent trend of unveiling models that stretch across multiple segments. Honda says that the concept takes "the spirit of a sports motorcycle and the comfort of a scooter into a totally new format."

Scooter fans will likely feel at home with the bike's feet-forward riding position, small frame and high windscreen. Yet the powertrain is more indicative of a high-end sports bike. The manufacturer is bringing over the dual-clutch transmission previously found on the VRF1200F to deliver increased handling and maneuverability for the new model. The New Mid also features a Pro-Link suspension and 17-inch motorcycle tires to ensure that the scooter can handle all that power.

Honda has not announced whether the new model will yet go into production, and will likely decide the future of the vehicle based on the response to the concept.