Honda New Mid Concept Revealed At EICMA 2010
Chaparral Motorsports
|
November 3, 2010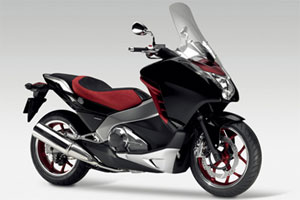 The New Mid Concept has been revealed at Honda Press Conference at EICMA 2010, the International Bicycle and Motorcycle Exhibition in Milan, Italy.


Honda New Mid Concept reinvents the way we look at two wheeled travel. This concept combines innovative thinking and new technology to create a multi discipline machine.


Taking the spirit of a sports motorcycle and the comfort of a scooter into a totally new format, the New Mid Concept will offer the energetic riding sensation of a motorcycle but with the ease and convenience of a scooter. This sector shattering combination of features creates a bike that is both visually dynamic and enjoyable to ride.


The latest engine technology has been coupled with the advanced Dual Clutch Transmission technology up to now exclusively offered on the VFR1200F. Now Honda has committed to offer this technology to more of our customers, as it challenges decades of motorcycling convention and gives riders a unique sensation of seamless gear shifts.


Dual Clutch Transmission will give the rider the option of experiencing a pure riding experience, indulging in the thrill of the winding roads, or riding with ease when weaving through city traffic. In addition to giving a dynamic riding experience, this new transmission can also deliver fuel efficiency better than a conventional manual gearbox.


The foot-forward position will provide comfort for the rider and offer additional protection from weather.


The newly designed 17 inch wheels with PRO-LINK rear suspension add to the motorcycle look and enhance high speed stability and maneuverability with the optimum size radial tyres giving a sporty ride. The front fairing air vents coupled with the larger wheels will deliver greater stability when riding at higher speeds.


The New Mid Concept from Honda - challenging the way we travel.