BMW To Return To Scooter Market?
Chaparral Motorsports
|
November 3, 2010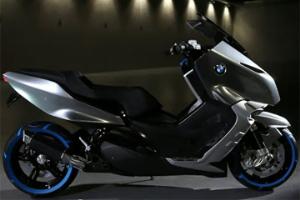 BMW hasn't had a scooter on the market since the days of its C1 model. Although the manufacturer recently debuted some electric vehicle concepts under its Mini brand, the company had not dropped any hints of gas-powered scooters using the BMW nameplate. That is, until the recent EICMA trade show in Milan, Italy.

A new scooter, dubbed the Concept C, is BMW's first venture into the scooter market since it ceased production of the C1 in 2003. That model, immediately recognizable due to its closed, pod-like design, never made its way to the U.S.

While the Concept C may share a letter with the C1, it's an entirely new vehicle with an aggressive new design. The new scooter looks like a smaller version of BMW's S1000 RR sport bike, with a bright blue trim that extends down into the wheels.

The manufacturer says that the C stands for commuters, and the new model is aimed at those who are looking for an energy efficient means of getting to work. The company has not yet revealed whether it will manufacture an electric version as well.

BMW has confirmed that a version of the Concept C will see production, but hasn't announced availability or whether the model will ever make its way to the U.S.