Protection And Flexibility From The SIDI Crossfire SRS
Chaparral Motorsports
|
November 2, 2010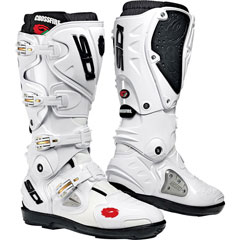 Anyone who has ridden dirt bikes know that purchasing a good pair of boots is one of the keys to being comfortable and safe when riding. Feet are used often in dirt bike racing, and buying a protective boot can go a long way.

The new [mageProductLink sku="043-0122" title=""]SIDI Crossfire SRS[/mageProductLink] is widely considered to be one of the top boots available. Any rider who has ever been in a crash will want to prioritize protection and durability, and the Crossfire offers this in spades. The boots are made out of Lorica base material, designed to give riders extra protection. There are a number of hinges that offer flexibility so no bones or muscles get sprained or broken because of the rigidity of the boot. There are also several external guards designed to cushion against blows.

The boots have also been praised for their convenience. The SRS stands for "sole replacement system." This means that a rider can easily replace the sole when it gets worn down or uncomfortable, making the boots especially long lasting. On many other boots, riders will have to take them to a cobbler in order to get the sole replaced.

While the SIDI Crossfire are generally considered to be dirt bike boots, they can also function as ATV boots as well.