KTM Strider Teaches Kids Balance At An Early Age
Chaparral Motorsports
|
November 2, 2010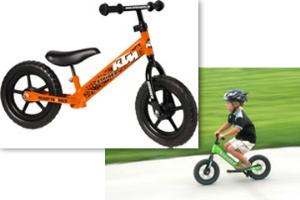 Fathers who want their children to follow in their footsteps and race motorcycles likely wonder what the best way to teach their kids to ride is. Obviously, children need to learn some basic bike skills before they're ready for a minibike or similar toy, but there's still a big leap from a non-motorized bike to a motorized one.

That's why motorcycle rider Ryan McFarland created the KTM Strider PREbike. Reasoning that tricycles and training wheels did nothing to teach children balance, the Strider takes a different approach. This two-wheeler isn't quite as large as a full bike and young riders don't have to worry about pedaling. Instead, they can sit on the seat and walk the bike while learning to balance it.

A pair of footpegs allow the children to easily bring their feet up and glide for short inclines. The bike's low center of gravity means that kids will pick up the skills quickly without having their confidence shattered by repeated falls.

The bikes are also built for any type of terrain - so riders can follow dad down a hill or into the dirt.

KTM believes that children who train on the Strider, with a recommended age of 18 months and up, will soon be ready to graduate to a motorized bike.

"KTM has invested in young motorcycle riders for many years with our large line-up of minicycles, and now, with the KTM Strider we can welcome riders into the KTM Family at a much younger age," says Jon-Erik Burleson, president of KTM North America, Inc. "We believe wholeheartedly that learning to ride on a PREbike will develop strong riding skills and have kids ready to race when they graduate to our minis."