Triumph's New Thunderbird
Chaparral Motorsports
|
November 1, 2010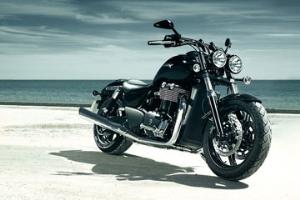 The Triumph Thunderbird is one of the most popular cruiser motorcycle models on the market. The company recently announced that it would be releasing a new version of the bike for the 2011 model year.

The new Thunderbird Storm boasts a bigger, bored-out engine. Specifically, this bike is packing a liquid-cooled 1699cc parallel twin engine, a substantial upgrade from the regular-bore 1597cc traditionally found on the T-Bird. Cruiser fans aren't typically performance enthusiasts, instead preferring style and comfort, but it's hard to argue with more engine power. The company says that the new engine gives the bike 98 horsepower at 5200 rpm with 115 lb-ft of torque at 2950 rpm.

Beyond the engine upgrade, Triumph claims that the new bike is "wrapped in a pared-down, punked up look." Many riders prefer the look of a purely black bike and the Thunderbird delivers that in spades, using minimal chrome and blackened engine cases. At the very least, it provides a blank canvas for bikers who like to customize their rides. The storm also gets the "bug-eye" twin headlights that are typically found on the company's Rocket III model.

The new model is expected to hit motorcycle stores in January.