Motorcycle Luggage Product Guide
Chaparral Motorsports
|
November 1, 2010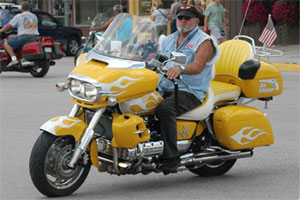 For many motorcyclists, figuring out some practical way to carry or store additional equipment, clothing or necessities is a quandary. Fortunately, this age old dilemma for two-wheeled travelers has been thought about and answered by the motorcycle industry in a multitude of ways. What luggage will work best? Choosing luggage depends on what a rider wants and how it will be used. For day rides, a tankbag or trail pack will work. An ectended weekend jount may require more storage provided by saddlebags or a hard case. The choice is yours. Learn more about motorcycle luggage options and what is the right choice.

Hard luggage

Hard motorcycle luggage cases have been around at least since the early 1950's when the grandfather of modern motorcycle luggage, Ken Craven started selling his small, but useful top and side cases. Prior to this invention, leather and canvas saddlebags were predominant.

Hard luggage is rigid in construction and has a secure mounting frame that is attached to the motorcycle. This allows for a top case to be mounted on the rear of the motorcycle as well as hard side cases. Hard cases have the advantage of being secure and lockable, waterproof or water resistant and have larger carrying capacities. Hard topcases attach to the rear luggage rack and there is a wide variety of styles and sizes available.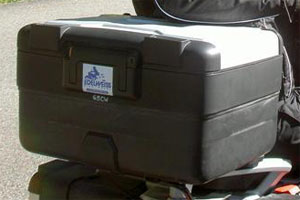 One disadvantage, particularly of large top cases because of their carrying capacity, is that they can affect the handling of a motorcycle, especially when heavily loaded. They also cost significantly more than their soft textile counterparts. Top cases are available in a variety of sizes for multiple application. Givi a popular brand, even makes hard topcases specifically for scooters in addition to their cases for motorcycles. Their hardcases feature the convenient monokey/monolock system allowing the rider to open or detach the system with only one key and with one hand if necessary.

Hard luggage requires more complex installation and mounting then soft luggage. Hard luggage typically comes with or requires hardware and mounting systems that stay with the bike, even when the luggage is removed. Most companies design their hardware to be as unobtrusive as possible.

Several manufacturers make bike specific optional accessory hard bags. BMW has been doing it since the 1970's and most companies today offer optional hard cases for certain models that enhance and compliment the look of the motorcycle.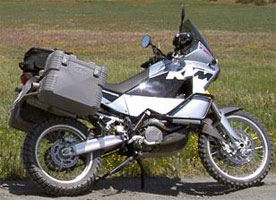 Panniers are rectangular side cases with lids, usually made from metal or hard plastic. Panniers are very popular with larger dual purpose and touring motorcycles like the BMW GS, KTM Adventurer or the Kawasaki KLR's and Versys. Popular with the hardy souls who race the Pais to Dakar rally, The box shaped panniers, have a real rugged adverturer look to them and are extremely durable. Panniers may be permanently afixed to the motorcycle or may be removable. Panniers There are even expandable pannier side cases available to allow for more space as required.

Soft Luggage

Sissy Bar Bags

Sissy bar bags are another popular way to carry greater volume. Popularized by Peter Fonda's character Captain America in Easy Rider, The sissy bar bag has evolved from a basic bag bungeed to the back of a bike into the very useful and convenient T-bags and travel cases of today. Sissy bar bags, most popular with cruiser riders, typically attach with hook and loop straps that are adjustable so the bags will mount to a myriad of bikes. Adding a top bag, referred to as a T-bag, can enhance the capacity of sissy bar bags. Because they are mounted high on the motorcycle and are capable of large loads, they too share the disadvantage of affecting the handling of a motorcycle. An advantage of sissy bar bags and T-bags is their large carrying capacity, economical price when compared to hard motorcycle cases, and their versatility. Back in the movie, Fonda used a backpack attached to his sissy bar, but today it's the reverse. Many sissy bar bags have shoulder straps, enabling you to remove them from the bike and carry them as a backpack. Some, like the Dowco Rally Pack roller bag can be removed and resemble rolling suitcase luggage. The have handles and wheels and can be easily removed from the bike and rolled into your motel room, or through the airport.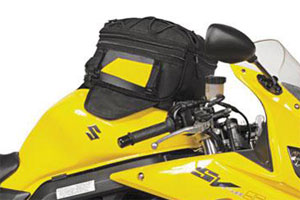 Tank Bags

Tank bags are very popular with sportbike riders and a great option for day trips.. Used as a daypack to hold some essentials or as a supplement to other bags and cases, tank bags lack the same capacity of tail bags and cases, but do offer enough room for some vital items. Tank bags are perfect for an extra shield, cleaner, sunglasses and snacks and more. You can fit quite a bit in a tank bag. Many can be expanded to increase capacity or adjusted smaller to lower the profile. Tank bags are attached with adjustable hook and loop straps or magnetically to the top of the gas tank. Many tank bags have a transparent pocket to hold a map visible while riding. Tank bags do take getting used to riding with. They limit how much you can lean over the tank especially when fully expanded. There is also the inconvenience of having to remove the tank bag when refueling, although this is minimal when compared to the convenience of extra storage space.

Saddlebags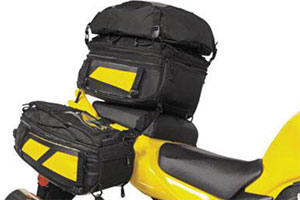 Some saddlebags haven't changed much since the pony express was using them to carry mail in the early days of the Wild West. Because of the classic look and enduring design saddlebags are still very popular with the iron-ponies of today. Although they continue to be available in genuine leather, most motorcyclists opt for the more modern weather resistant and maintenance free materials such as synthetic leather and cordura nylon. The synthetic leather and leather bags are popular with cruiser riders and the textile cordura bags are mostly found on sportbikes and sport touring bikes. Saddlebags can hold quite a bit and because the are low to the center of gravity, they do not effect the handling of the bike unless disproportionately weighted. Because saddlebags are in the proximity of the exhaust and the rear wheels, caution must be exercised to make sure your bags do not melt, burn or get pulled into the moving wheel. Several companies offer hard mount kits or saddlebag supports to eliminate the potential of saddlebag or motorcycle damage. Saddle bags are super simple to remove, through over your shoulder and carry into your motel or hotel room.

Tailbags

Tail bags come in a variety of configurations but are generally made with weather and abrasion resistant textiles and synthetic leathers. Many are expandable and when used incombination with other storage options can help to give a rider all the storage space he or she may need. Most attach with adjustable bungee mounting systems for versatility and many also convert to a back pack when removed from the bike for carrying ease.

Scooter soft bags

Givi and Chase Harper, both popular motorcycle luggage manufacturers make soft backe specifically to fit scooters, as scooter share the same need for storage space as do motorcycles.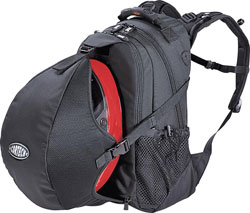 Backpacks

Back packs are great for those days you do not need to carry a lot, but would like the option of having some space. There are specific backpacks designed for motorcycle riders that have aerodynamic hard shells for better rider airflow or are designed to distribute weight more effectively to maintain balance. Back packs are ideal for students who may not have the time to unlock or dismount bags or gather together everything they need as they rush off to class.

Backpacks with built in hydration systems are excellent for grabbing a quick drink, even while riding. These hydration backpacks are very popular with offroad motorcyclists and are equally convenient for street riders. The hydration backpacks have a specific pocket within the backpack to hold a hydration bladder, hose and mouth. The hose runs up and over the shoulder and usually clips conveniently on one side of the backpack straps. With one hand you can grab the drinking hose and quench your thirst without having to stop.

There are specific helmet holding back packs to designed to help you carry your helmet when away from the bike, like the Shoei helmet backpack.

The colors available in back packs is almost infinate. Whether you want to match your bike, look stealthy or standout like a beacon there is a back pack in a color for you. Visability to other vehicles is an issue with motorcyclists so a bright colored back pack is an excellent way to get noticed.

Look for a back pack with multiple access pockets. These varied ways to to get into your pack, allow you to find that pack of gum or chapstick, without having to dump out your entire pack.

Also besure the straps on your backpack choice can adjust and accommodate bulky armored jackets and winter gear. What may seem like the ideal back pack in August, becomes useless in January if it won't fit over your jacket.

Triple tree bags/Roll Bags

For smaller items that you want to keep handy, a triple tree bag is ideal. Perfect for sunglasses and smaller incidentals that you may want to get at without digging to the bottom of your tail or saddlebags to retrieve. Triple tree bags attach to the top of the triple clamps and work well with sportbikes. Rapid transit makes several different versions for various applications including bags for bikes with risers.

Roll bags also provide a little extra storage space up front by mounting to the handle bars, jut above the headlight. Designed with universtal quick mount straps they can be attached to various parts on the bike as well. Although lacking the capacity of other bags, roll bags also offer a separate area to store items you may want to get at repetitively without digging or removing carefully packed items from your tailtrunks and saddlebags.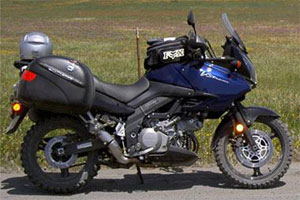 Conclusion

There are so many options and varieties that there should be no excuse for a lack of storage space on your two-wheeled vehicle. As gasoline prices soar and more people turn to their motorcycles to commute, the need for storage space becomes even more acute in your day-to-day activities. When choosing bags for your vehicle, be sure to think out everything you may need to store or carry. Put together a combination of bags or cases that allows you the options to carry as much or as little as you need for your trip or day.