Kawasaki KLR 650 Preview
Chaparral Motorsports
|
November 1, 2010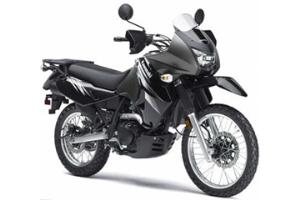 Some riders prefer the freedom offered by dual sport bikes, which are just as at home on a dirt path as they are on the highway. For over two decades, the Kawasaki KLR 650 has been one of the top choices for dual sport riders.

The KLR 650 is aimed at riders who prefer long journeys over varied types of terrain. The four-stroke DOHC 651cc engine powers the bike over both pavement and dirt, while a Uni-Trak shock system ensures that riders will be able to handle bumpy surfaces with no problem.

To keep the seat comfortable, the automaker uses urethane foam, known for both durability and comfort. A high windscreen and a 36-watt alternator that can power a multitude of gadgets means that the KLR can easily function as a commuter bike during the week and an off-roader on weekends.

The Kawasaki also comes with an aluminum rear cargo rack. Saddlebags are one of the more popular motorcycle accessories for dual sport riders, and they'll fit comfortably here. There's also space for a tail bag as well.

Kawasaki recently showed off a modified version of the KLR 650 that runs on diesel fuel at their annual dealer meeting. Diesel is a more affordable option than gas, but the heaviness of the engines have made them ill-suited for motorcycles for many years. Kawasaki claims that advances in the technology have made the diesel engine viable and may bring the model to showrooms in the near future.