Ducati Traction Control Now A Standard Feature On Several Models
Chaparral Motorsports
|
November 1, 2010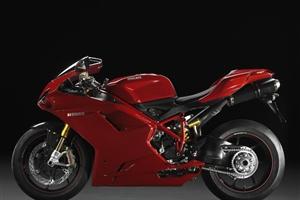 Ducati has announced that their innovative Ducati Traction Control (DTC) system will be a standard feature on several of their bikes, including the Multistrada 1200 and Streetfighter S, 1198 and 1198 SP.

The system is designed to assist riders once wheel spin is detected. The software was developed by Ducati's MotoGP team and has now found its way to production models.

Advanced riders tend to hate systems like this, as they feel that they interfere with their natural riding style. That's why Ducati has included a setting that allows riders to program the control system exactly as they like. A gauge on the switchgear shows which level the rider has selected, with 1 as the least intrusive and 8 recommended for beginners. As riders get more comfortable, they can decrease their numbers.

At 1, the DTC will only kick in when the wheel spin is considered to be dangerous, instead letting the rider do most of the work. The eight level, on the other hand, automatically assists the rider at even the slightest wheel spin, making the bike considerably safer.

Despite the proliferation of advanced safety systems like DTC, riders should remember that they aren't invincible. Bikers should select a motorcycle helmet that's comfortable, easy to store, and DOT-approved.