Mavizen TTX02: An Electric Bike Designed For Racing
Chaparral Motorsports
|
October 29, 2010
Mavizen TTX02 Specs
Chassis
Frame type: Powder coated Chromium-Molybdenum trellis
Rake (fork angle): 23.3°
Trail: 90 mm
Front suspension: WP-USD, 43 mm
Front suspension travel: 120 mm
Rear suspension: WP-Monoshock
Rear suspension travel: 125 mm

Dimensions
Front tire*: 120/70-17
Rear tire*: 190/55-17
Front brakes: Double disc. Brembo
Front brakes diameter: 320 mm
Rear brakes: Single disc. Brembo
Rear brakes diameter: 220 mm
Dry weight**: 110kg
Seat height: 805 mm
Ground clearance***: 110 mm
Wheelbase: 1,430 mm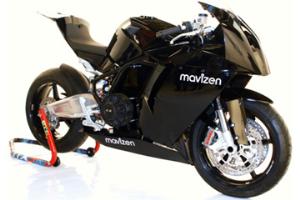 Electric motorcycles have come a long way, but street bike enthusiasts typically demand uncompromised performance. While more than a few electric bikes can now top 100 miles-per-hour, reaching those speeds usually means killing the bike's range.

According to the Los Angeles Times, the Mavizen TTX02 could eventually represent a solution to that problem. The bike was commissioned by Azhar Hussain, an electric vehicle enthusiast who started the TTXGP e-bike racing circuit. The TTX02 was developed to comply with the race's no-emissions standards while still being able to chase down competitors.

The news source reports that the Mavizen isn't currently street legal, but boasts a number of upgrades that could eventually make their way to the mass market. The heart (and brain) of the bike is an Intel processor, the first of its kind, which monitors everything happening with the bike, displaying it for the rider on the dashboard. That means the rider can tell exactly how much battery they have left and how far they have to go. The system is also Wi-Fi and Bluetooth enabled, meaning it can download software updates on-the-go.

Perhaps best of all, the bike doesn't noticeably lose juice as the speed is increased. That could satisfy performance enthusiasts interested in green transportation who don't want to sacrifice their handling and acceleration.

The Mavizen will currently cost riders about $30,000, and thus is mainly only used by those racing on the electric motorbike circuit. Yet the manufacturer says they are hard at work at reducing the cost, hoping to one day bring the bike to a wide range of consumers. If so, the bike could eventually become the model that electric enthusiasts who still have a need for speed are looking for.

* Marchesini wheels

** Without batteries

*** Depending on battery and suspension configuration