Ironman Tests Bike, ATV Endurance
Chaparral Motorsports
|
October 28, 2010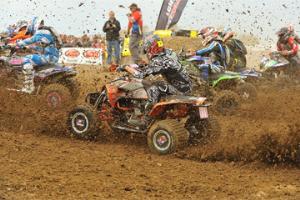 Even seasoned motorsports fans have likely not had a chance to experience the drama and intensity that is an Ironman Race. Some lucky spectators got to do just that at the GNCC Ironman competition held over the weekend in Crawfordsville, Indiana.

These specialized off-road competitions truly push the vehicles and riders to the limit, stretching over several hours and through tough dirt and mud-crusted conditions. Riders truly tough it out in the trenches on both ATVs and motorcycles as they pace themselves and push toward the finish line.

Competitors' machines are customized using special motorbike and ATV parts to hold up under the tough conditions. In fact, these parts are so important that riders are allowed to pit during the race, much like in a NASCAR event.

The ATV race on Saturday was never really in doubt, as Suzuki rider Chris Borich got out to an early lead and never relinquished it. Borich never really had to contend with other riders on the cramped track and finished with well over a minute to spare. The story of the day was rider Adam McGill, who slowly moved from the very back of the pack to eventually finish second once all was said and done.

In Sunday's motorbike race, New Zealander Paul Whibley, riding for Yamaha, was able to take home the title after leading for much of the race. He was challenged by Josh Strang, who finished 1st overall in the standings this year, but a clogged air filter meant that Strang eventually had to fall to the back of the pack.