MotoGP Race Will Be Preview Of 2011 Season
Chaparral Motorsports
|
October 27, 2010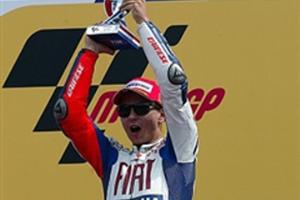 The MotoGP title may have been decided, with Jorge Lorenzo walking away with the championships on points, but this weekend's race in Portugal will be anything but boring.

According to Yahoo! Eurosport, fans should expect riders to settle their differences on the track as they look to send a message to the other riders before the 2011 season.

Lorenzo has been racing conservatively in order to protect his lead, so fans shouldn't be surprised if the gloves come off and he races to win this weekend. He'll face stiff competition from a number of riders looking to take down Dani Pedrosa in second place and Casey Stoner in third, with neither rider's position entirely safe at this point.

The other storylines to watch for include Stoner's pending move from Ducati to Honda and Valentino Rossi's impending switch from Yamaha to Ducati. Future teammates Pedrosa and Stoner will likely engage in a friendly rivalry on the track as each looks to establish themselves as Honda's dominant rider, while Rossi will likely want to remind the fans that he'll be a championship contender next year.

Another rider to keep an eye on is Ben Spies, an American rider who will likely be the lead Yamaha competitor after Rossi leaves in 2011. Spies is young, but has potential to be among the best in MotoGP and will likely look to move up a few spots from his current sixth place in the standings.