AMA To Celebrate Hannah's Career
Chaparral Motorsports
|
October 27, 2010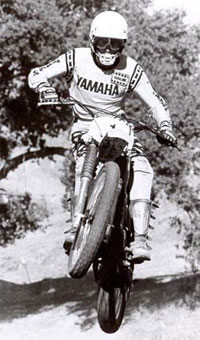 Bob "Hurricane" Hannah is known as one of the greatest American motocross racers of all time, and his exploits are such that he has already been inducted into the AMA Motorcycle Hall of Fame. Yet the organization has announced that it will still honor Hannah as a "Hall of Fame Legend" at the next induction ceremony.

The occasion will mark the first time that a rider already inducted into the Hall of Fame will be asked back to be honored as a "legend." Hannah is largely credited with an increased interest in motorsports in the 1970s.

Over his long career, Hannah took home 7 AMA National Championships in the 125cc, 250cc and Supercross series. Hannah made an immediate impact when he "stormed" onto the racing scene in 1975, causing a track announcer to bestow the nickname "Hurricane." A rider since the age of 7, Hannah dominated his first amateur race so thoroughly at the age of 18 that he was immediately promoted to the expert ranks. Upon making his way to the AMA 125cc series one year later, Hannah signed with Yamaha and delivered a championship in his rookie season.

That was the beginning of a 15-year, 70-win career. Although he slowed down a bit after a leg injury, he still led the USA Motocross des Nations teams in the 1980s and was even able to score a victory for his country when the race was held in New York. He was inducted into the Hall of Fame in 1999.

Hannah is sure to be a highlight when the induction ceremony is held on November 19th in Las Vegas.