Kawasaki's Vulcan Vaquero Aimed At Touring Bikers
Chaparral Motorsports
|
October 25, 2010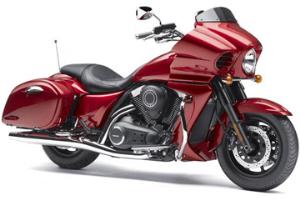 For bikers who love long journeys, the "bagger" is a time-honored tradition. These bikes can be easily identified because of the wide range of motorcycle accessories attached to them - especially the two "saddlebag" storage compartments on the rear of the bike.

For those hitting the open road, "bagger" bikes come with all the creature comforts to make the journey an enjoyable one. That's exactly the philosophy behind Kawasaki's new 2011 Vulcan Vaquero.

Vaquero means "cowboy" in Spanish, and riders wouldn't be faulted for calling the new Vulcan a modern version of a legendary steed. With a sleek black or red finish and minimal chrome, the Vaquero is both subtle and eye-catching. Kawasaki took some inspiration from "pony cars" like the Ford Mustang in designing both the stylish exterior and instrument gauge.

Just because the Vaquero is a touring bike doesn't mean riders will have to sacrifice performance. The bike features a 1700cc SOHC liquid-cooled V-Twin engine that delivers 108-foot-pounds of torque.

Riders won't be lacking for extra features, either. A water-cooled alternator provides plenty of amps for plugging in electric devices, like an MP3 player that is compatible with the bike's audio system. There's also electronic cruise control for extended journeys and plenty of motorcycle accessories available so riders can customize the Vaquero exactly as they please.