Honda To Unveil VFR800X Crossover At Milan Motorcycle Show
Chaparral Motorsports
|
October 20, 2010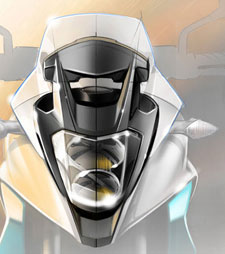 Crossovers are all the rage in the automotive market, so a number of motorcycle companies are looking to bring the concept to bikes as well. That's the angle that Honda is taking with its upcoming VFR800X, a new bike aimed at riders who will be dealing with multiple terrain types.

With the "X" in the name signifying "crossover," Honda hopes that the VFR will be as fast in the dirt as it is on the road. Two teaser images of the bike have been released thus far, with the full debut expected to come at the 2010 EICMA show in Milan. Honda says that the full list of features, pricing and release date will be revealed at that time.

The company claims that the VFR800X will feature the "flexibility and exciting attitude of a Naked performance machine, with the upright riding position and rugged appearance of an adventure bike." The 800cc V4 motor will provide plenty of power, but the styling of the handlebars will make the bike manageable in off-roading scenarios. Honda boasts that the bike will be "fun to ride" regardless of conditions or terrain.

Honda is likely aiming the bike at the BMWR1200GS, which has dominated the market segment up until this point, according to Motorcycle News.