2011 Kawasaki Vulcan 1700 Vaquero - A Cowboy's Ride
Chaparral Motorsports
|
October 5, 2010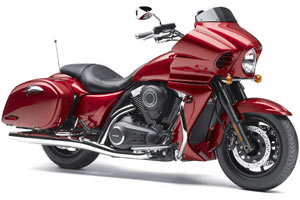 Kawasaki has been paying close attention to the trends developing in motorcycle fashion. The chrome movement of the last ten years was murdered in the Vulcan 1700 line with the new blacked-out bagger, the 2011 Vaquero.

The Vaquero sports an abbreviated fairing, much like the Voyager's - chopped low, stretched wide with 1950's hot rod inspiration.

The Vaquero's 1,700cc, SOHC, liquid-cooled V-twin, boasts the very latest in engine technology yet looks like a throwback to the past, all while delivering 108 foot-pounds of torque.The 52-degree V-Twin has a generous 104mm stroke working within a sizable 102mm bore to push out low-and mid-range power. Kawasaki claims its peak power numbers are 108 lb-ft @ 2750 rpm, which puts it in the same range as the Freedom 106/6 engine Victory uses in its faired bagger, the Cross Country.

The Vaquero's advanced electronic fuel injection optimizes engine response without detracting from its distinctive V-twin throb. The system based on the EFI used in the Ninja 650R and the Vulcan. A water-cooled alternator produces a staggering 46.8 amps - plenty to power a selection of electronic accessories to enrich motorcycle travel. The Vaquero offers true touring-bike convenience in the form of its electronic cruise control system, conveniently operated from the right handlebar and usable at any speed between 30 and 85 mph in any of the top four gears.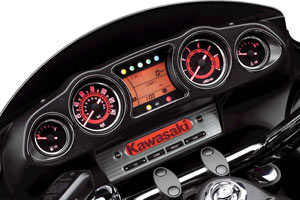 The instrument panel showcases a unique muscle car style. The Vaquero's audio system has FM, AM and WX and is compatible with iPod, XM tuner, or CB radio.

The 2011 Kawasaki Vulcan 1700 Vaquero will be offered in either Ebony or Candy Fire Red and comes with a 24-month warranty.

It all adds up to a truly top-of-the-line bagger.