Aprilia 750 Shiver To Hit American Market
Chaparral Motorsports
|
October 4, 2010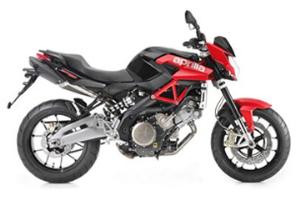 Italian bike manufacturer Aprilia has announced that it will import its Aprilia 750 Shiver naked bike to the American market for the 2011 model year after making some revisions to the bike's styling.

For the new 2011 Shiver, Aprilia has listened to riders' feedback and repositioned some of the features for the update. Although the bike is still a standard, Aprilia has made a few alterations that give it a sportier feel. The footpegs have been moved back while the handlebars curl downward, allowing riders to assume an aggressive position if they so choose. The seat is also about two-inches narrower, which gives the rider more control.

Styling features include a shorter windshield and wave break rotors that make the bike slightly flashier than its predecessor. The bike is available in either black or silver.

In terms of performance, Aprilia claims 95 horsepower at 9,000 RPM with generous torque over the full RPM range. While the company boasts that the bike will perform well on the track, it's also comfortable enough for everyday use.

The new Shiver is expected to set riders back about $9,000.