Purdue Student Creates Solar-powered Bike
Chaparral Motorsports
|
September 30, 2010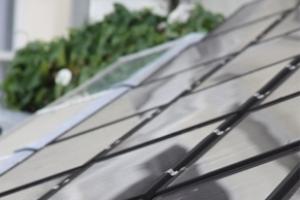 Many bikers like to make their own modifications to their rides, whether it's adding motorcycle accessories or swapping out one part for another. But one Purdue University student took that a step further and created a bike that runs off solar power.

Tony Coiro, a physics major at the school, bought a 1978 Suzuki motorcycle for $50, then set out to make a bike that would run purely off solar energy. He succeeded, spending $2,500 to create a new machine that carries commuters around for just a penny per mile.

"The riding experience is surreal," he told United Press International. "I get instant, silent, constant acceleration that outpaces urban traffic. It's like riding a magic carpet."

The new ride tops out a 45 miles per hour, which Coiro says is perfect for getting around a city. The vehicle's batteries can also be charged by plugging the bike in to any outlet, meaning nighttime riding is no problem.

Yet Coiro isn't finished. He's started the Purdue Electric Vehicles Club and is already planning his next creation using the lessons he learned from his first bike. He aims to create a 100-horsepower ride that gets 100 miles per charge and can hit 100 miles per hour.

"Now I'm ready to make a game-changer," he told the news source.