New Air Vest Works As An Air Bag For Bikers
Chaparral Motorsports
|
September 29, 2010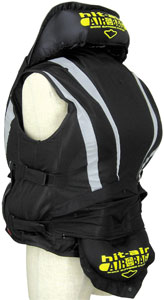 Even the safest bikers may one day end up in a crash. Bike safety and awareness has improved over the years as riders have become smarter about wearing motorcycle helmets and proper attire, but there could still be some improvements made.

Channel 2 KTLV in Reno recently interviewed some safety experts about what the best ways bikers can protect themselves are.

Alan Cunningham, owner of SaferMoto, said that many bikers don't realize the risks they take until they're in an accident themselves.

"There are only two types of motorcyclists in this world: those who have crashed, and those who will crash," he told the news source. "I have never met a motorcyclist who hasn't crashed."

Cunningham himself was a motorcycle racer, and was involved in several serious accidents in his career. These days, he wears a new product - the air vest, which operates as a type of airbag for bikers.

The vest is worn deflated, but automatically inflates when the rider is thrown from the vehicle, protecting their neck and chest from serious harm.

"Spinal injuries, neck cord injuries - that is what the vest really protects against," he said. "It protects your whole core."

Bikers may want to consider the air vest or a similar product if they plan on riding, especially if it involves racing.