Stoner Takes Aragon
Chaparral Motorsports
|
September 21, 2010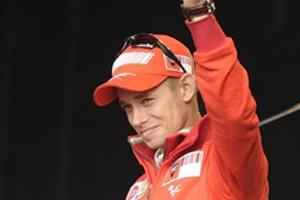 The Aragon Grand Prix is in the books, and the winner was a bit of a surprise, with Ducati's Australian rider Casey Stoner taking home the first place finish. The race marked Stoner's first GP win of the season.

Stoner battled for position with Honda's Dani Pedrosa for much of the race, but was eventually able to pull far ahead of Pedrosa in the final laps to beat him by more than five seconds and snap Pedrosa's two-race win streak. Pedrosa finished second, while Stoner's teammate Nicky Hayden was able to pass current points leader Jorge Lorenzo for third place.

Stoner chalked up his win to a few key motorcycle parts changes before the big event.

"It's a big relief to be honest!" said Stoner. "It's been too long between wins. All weekend has gone more or less ok, and we tried something totally different and changed the bike completely and had a much better feeling with the front end."

Lorenzo maintained his big lead on the other racers with 284 points. But Pedrosa was able to gain on his Spanish countryman and currently sits at 228 points with five races to go. Stoner's win, meanwhile, propelled him to third place and 155 points.

If these trends keep up, it'll be a neck-and-neck finish in the top class of MotoGP.