Colormania Celebrates 20th Anniversary With Custom Paint Deal
Chaparral Motorsports
|
September 15, 2010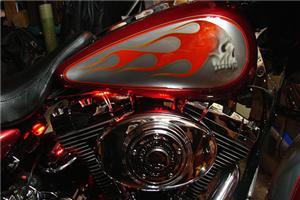 Custom paint shop Colormania has announced that it will celebrate its twentieth anniversary by offering motorcycle stores a steep discount on custom paint jobs.

The company, headed by noted bike artist Cory Jahromi, is unveiling a new line of custom paint jobs available for Harley, Suzuki, Yamaha, Kawasaki and Honda. As part of the promotion, they're offering a $700 coupon to select dealers in order to drive down the cost of the popular designs.

"This $700 savings will be an effort to help dealers increase floor traffic and boost sales with Colormania custom paint. Furthermore, this is Colormania's way of supporting its most faithful clients in today's tough economy. Call it a stimulus package," said Jahromi.

Jahromi was the founder of Harley-Davidson's "Radical Color Shop," which allowed buyers at Harley dealers to customize their bikes with a cool paint job separate from the stock options offered. The system proved popular, and demand eventually exceeded that amount that Jahromi could produce, so much so that the company had to institute a lottery system in order to determine which dealerships would be able to offer the program.

The first design for the new 2011 model year has not been unveiled, but the company hints that it will feature flames that use a special pigment to change color depending on the light and viewing angle. A Colormania paint job retails at $1695 before the $700 deal.