How To Prepare Your Polaris RZR For Baja
Chaparral Motorsports
|
September 14, 2010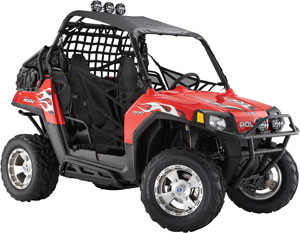 With its low center of gravity, sway bars and powerful 800cc EFI motor, the Polaris Ranger RZR has become an instant hit with the public. 100 pounds lighter than the dominating Yamaha Rhino, the RZR is the fastest SXS out of the box. You've finally got your RZR; now let's look at dressing it up Baja style.

Preparing for an adventure in this south of the border state takes month of research and planning. Our guide assists beginner Baja adventurers in identifying the essential accessories that will make your adventure more comfortable.


Bimini Sport Roof
Protect your melon from the sun. Shelter yourself from the rain. Polaris has a cure with their Bimini Sport Roof. This vinyl top will protect the driver and passengers from rain and sun, and adds a great custom look. The Bimini roof from Polaris features durable form fitting vinyl construction made of rugged virtually indestructible HMW (High Molecular Weight polyethylene).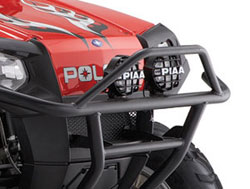 Pre-Runner Bumper system
The rugged Baja terrain offers plenty of in-road obstacles such as rocks and trees. Keep your Polaris protected with a pre-runner bumper. The pre-runner bumper system from Polaris provides front and rear protection. The front and rear pre-runner brush guards are a heavy-duty steel durable 1 1/2" tube construction with a black powder-coat finish for scratch resistance. It helps block debris, brush and limbs from reaching the vehicle's radiator, hood and headlights. The bumper adds to that pre-runner look.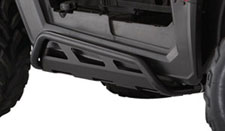 Rock slider nerf bars
Polaris offers rock slider nerf bars in its accessories pack available through your local Polaris dealer. These nerf bars will add extra protection to chassis and body panels steel reinforcement. The bars are powder coated for scratch resistance.

Half windshields
Try adding a half windshield to the RZR for extra wind and debris protection. We found adding a full wind shield is often more of a bother while using you RZR in desert or sandy terrain. The windshield will collect dust through the ride making it difficult to see. Mexico terrain is ever changing and full visability is a must. We recommend a half windshield. Check for a scratch resistant, polycarbonate version. Pay close attention to the instructions to ensure a rattle free installation.

Warn XT30 winch
Adding a winch to your RZR is a must. Be the hero of your riding troupe able to swop in a save the day. Save yourself from utter disaster if you find yourself in the wrong place. This particular winch is ideal for moving trees, self-recovery and hundreds of off road tasks. The XT30 is a 12 volt DC winch with 9hp permanent magnet, fully sealed to protect against the elements. All metal 3 stage planetary gear train for smooth reliable operation. 154:1 gear ratio. Sliding pin and ring gear clutch, 3,000 lbs line capacity to confidently pull Ranger RZR.

ITP C Series Type 7 Beadlock Wheels
Popping a tire out in Baja is a worry and obstacle you should count on. Hard turns and running through rocky terrain can fuel a flat. Running beadlock wheels will help fight against this problem. While beadlocks wheels are not a sure fire way to avoid a flat, the wheels will help keep the tire on the wheel if the tire loses pressure. The outer beadlock ring clamps the bead against the wheel securing the bead in place.

ITP Terrcross HD Tires
ITP Terrcross Tires are specifically designed for side by side vehicles. The durable ITP tires are ideal for mud, sand and snow conditions; environments that drivers are likely to encounter while running through this Mexican state. The radial construction makes for better control and smoother riding.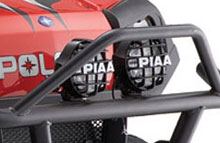 PIAA 520 SMR Lamp Kit
Shed light on the problem of night driving with PIAA 520 SMR Lamp Kit. This H3, 55W bulb type with driving beam pattern kit includes a wiring harness, relay and switch. Mount more than one to the roof top of your RZR and for extra light add a set to your bumper. Visibility is important for night driving. PIAA also makes universal brackets to attach this kit to your vehicle.

Spare Tire Holder
The unique design of the RZR lends itself to the ability to mount a spare tire to the rear of the vehicle. Polaris makes a spare tire mount and holder that works to carry a replacement for your times of trouble.


These are just a few of the many genuine Polaris accessories that Chaparral Motorsports offers for your RZR. Contact our parts specialists to put together a parts list to get you equipped for your next adventure.