Dynatek CDI And Coil For The Rhino
Chaparral Motorsports
|
September 14, 2010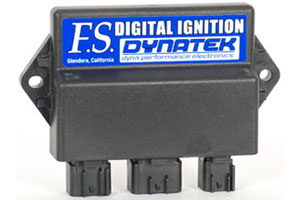 The Dynatek Dyna FS Digital Ignition box, or CDI box, is one of the hottest performance items you can buy for your Rhino. Yamaha limits the engine RPM's on Rhino's to 7,700 rpm's. The factory does this to protect the motor from being over revved, thereby causing damage, particularly by inexperienced operators. It doesn't take mush to peak this on a stock Rhino when zipping along at 45mph. For many, the top speed of 45mph from a stock Rhino may suffice, but if you are like me, at times you want a tad more.


Why We Like It:
CDI stands for Capacitive Discharge Ignition. The bottom line main advantage of putting a aftermarket CDI on to go faster. The reason is the aftermarket CDI allows your engine to reach a higher RPM therefore higher performance and speed. Dynatek CDI's have a much hotter spark energy and on those applications where it applies there is no reverse gear rev limiter either. The Dynatek box changes the entire timing curve and raises the rpm limiter from 8500 to 9000 rpm. The box does not add power to your vehicle per se, it just allows you to use more of what's already there but limited by the factory for protection of the motor and thus gives better performance throughout the entire rpm range. The Dynatek also eliminates the reverse rev limiter, and increases the spark energy. This is a high performance CDI without sacrificing the reliability of your Rhino After installing both products we found that the Rhino started quickly and there was an instant distinction in low and mid range power upon acceleration. There was more zip and with the higher rev limiter our top speed was increased by about 9-10 mph!


The nitty-gritty:
The Dynatek Rhino CDI will help you with this. It offers improved timing curves, and a higher Rev limit (9000 rpm verses the stock 7,700rpm.) It'll makes your Rhino easier to start, give it improved throttle response and increase the spark energy. Pretty much a plug in module replacement, the mounting is super easy.

DynaTek also offers a Performance Coil kit that replaces the factory coil with a more powerful and efficient coil. When used in combination with their CDI box the duo will increase the Rhino's overall performance from low to upper range with a significant difference.


The bottom line:
This should be one of the first mods you do. Instant plug and play performance and I think for the money, about $210 for the Rhino, the Dynatek is the way to go. It had not of the start hesitation issues I've experienced with rival CDI units. The removal of the annoying stock reverse gear limiter is another big plus in my book. You will notice an instant change, with easier starts, better low and mid range acceleration and even some on top too. Who can beat that?